Korting
U ontvangt korting als reseller van WiMood.
Staffelprijzen
| | | |
| --- | --- | --- |
| Orderwaarde | Aantal | Prijs |
| > € 0,00 | > 0 | € 112,00 |
Voor 18:00 uur besteld, dezelfde werkdag verzonden
Twee jaar garantie op Ubiquiti & MikroTik producten
Gratis verzending op orders boven de € 200
Ubiquiti AirFiber AF-MPX8
SKU: AF-MPX8 EAN: 0810354024511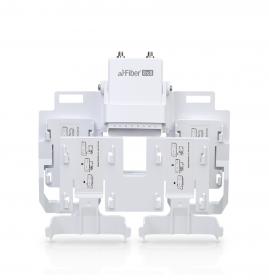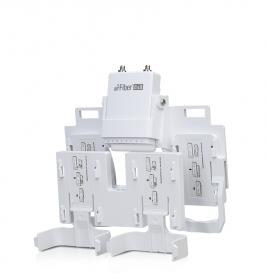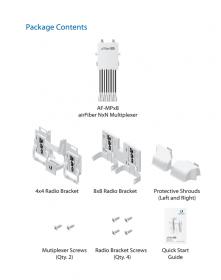 Omschrijving
Ubiquiti AF-MPx8 airFiber multi-Gigabit bridging performance for PtP links.


8x8 MIMO
Multiplex up to (4) airFiber X radios
Aggregate Throughput up to 2+ Gbps
Up to 3 Redundant Links
Scalable airFiber MIMO Multiplexer
Combine multiple airFiber X radios on a single dish antenna for superior noise immunity performance, redundancy, and multi-Gigabit Point-to-Point (PtP) throughput.
Precise GPS Synchronization
Using a common GPS timing reference, the airFiber X radios work cohesively to deliver powerful, multi-Gigabit bridging performance for PtP links.
4x4 or 8x8 MIMO Backhaul Technology
Quickly mount multiple airFiber X radios on existing airFiber dish antennas for Plug and Play installation. You can use radio channels of different sizes - even adjacent channels with no guard band - and place them anywhere within the radio band.
Reduced Tower Costs
Multiple airFiber X radios mounted on a single dish antenna maximizes throughput and capacity in a clean, compact tower footprint, minimizing tower costs.
Paired with the EdgePoint for Superior Performance
The EdgePoint provides link aggregation and powerful configuration features, including radio-link load balancing and advanced reliability for optical fiber deployments. The tower-mounted EdgePoint also simplifies the deployment by providing power to the airFiber X radios, so there is no need for individual PoE adapters and additional cabling.
Specifications AF-MPx8
Dimensions:
210.5 x 240.9 x 109 mm (8.29 x 9.48 x 4.29")
Weight:
0.45 kg (1.0 lb)
RF Connectors:
(2) RP-SMA Weatherproof (CH0, CH1), (8) RP-SMA Weatherproof, (A0, A1, B0, B1, C0, C1, D0, D1)
Cable Loss:
- 5 GHz: 7.2 dB
- 4.7 GHz: 7.9 dB
Supported airFiber X Radio:
AF-5X and AF-4X
Multiplex MIMO:
4 x (2x2)
Mounting:
airFiber X/Rocket Mount Compatible
Package Contents
AF-MPx8 airFiber NxN Multiplexer, 4x4 Radio Bracket, 8x8 Radio Bracket, Protective Shrouds (Left and Right), Mutiplexr Screws (2), Radio Bracket Screws ( 4), Quick Start Guide.
* Indien dit product boven de toegestane limieten gebruikt wordt, is dit niet langer vergunningsvrij en zelfs illegaal (max zendvermogen: 100 mW op 2,4GHz en 200 mW op 5GHz). Wij raden u aan de standaard configuratie v.w.b. de landeninstelling en/of vermogensinstelling van de apparatuur niet te wijzigen. Het gebruik van meer dan het wettelijke toegestane vermogen kan leiden tot verminderde bruikbaarheid van WIFI in uw onmiddellijke omgeving.