Korting
U ontvangt korting als reseller van WiMood.
Staffelprijzen
| | | |
| --- | --- | --- |
| Orderwaarde | Aantal | Prijs |
| > € 0,00 | > 0 | € 68,00 |
Voor 18:00 uur besteld, dezelfde werkdag verzonden
Twee jaar garantie op Ubiquiti & MikroTik producten
Gratis verzending op orders boven de € 200
MikroTik wAP ac - Outdoor dual radio AP 802.11n/ac - Black
SKU: RBwAPG-5HacT2HnD-BE EAN: 4752224001764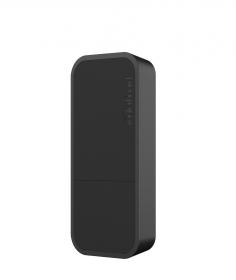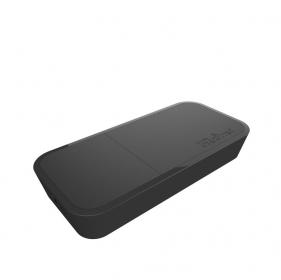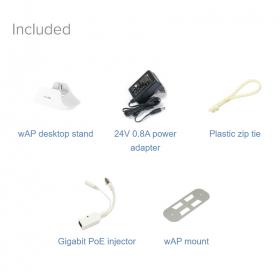 Omschrijving
The wAP ac is a small weatherproof wireless access point for your mobile devices, perfect for installation outside your house, in the garden, on your porch or anywhere else where you need wireless access from your phone or computer. The device has one Gigabit Ethernet port, it supports 802.11ac technology and can work at both the 2.4GHz and 5GHz frequencies simultaneously. It looks unobtrusive and sleek. The wAP ac is weatherproof and can be fixed to any external wall from the inside of the case - so that it is securely attached to it's mounting location. The bottom door can also be secured with a special screw, which can only be opened by the owner.
Specifications wAP ac
Architecture:
MIPSBE
CPU:
QCA9556
CPU core count:
1
CPU nominal frequency: 720 MHz
Dimensions: 185 x 85 x 30 mm
License level: 4
Operating System: RouterOS
Size of RAM: 64 MB
Storage type: 16 MB
Tested ambient temperature: FLASH
Suggested price: -40 C to 70 C

PoE in: 802.3af/at
PoE in input Voltage: 11-57 V
Number of DC inputs: 1 (PoE-IN)
Max power consumption: 12 W
AC speed: AC1600
Wireless 2.4 GHz Max data rate: 300 Mbit/s
Wireless 2.4 GHz number of chains: 2
Wireless 2.4 GHz standards: 802.11b/g/n
Antenna gain dBi for 2.4 GHz: 2
Wireless 2.4 GHz chip model: QCA9556
Wireless 2.4 GHz generation: Wi-Fi 4
Wireless 5 GHz Max data rate: 1300 Mbit/s
Wireless 5 GHz number of chains: 3
Wireless 5 GHz standards: 802.11a/n/ac
Antenna gain dBi for 5 GHz: 2
Wireless 5 GHz chip model: QCA9880
Wireless 5 GHz generation: Wi-Fi 5
10/100/1000 Ethernet ports: 1

Package Contents

RBwAPG-5HacT2HnD-BE, wap desktop stand, 24V 0.8A power adapter, Plastic zip tie, Gigabit PoE injector, wAP mount.
13 op voorraad, vandaag verzonden